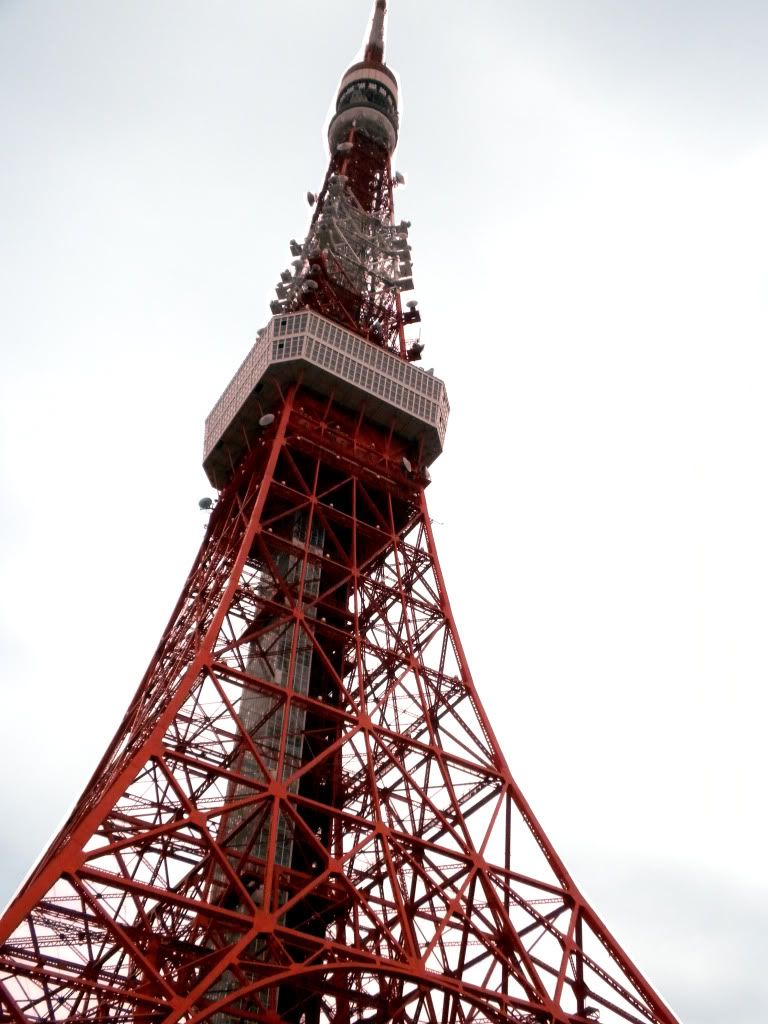 I went to Tokyo Tower today. I can't really tell you how to get there, because honestly, though I was paying attention, if I ever wanted to go back without doing our whole day's circuit and ending at Midtown, I couldn't do it. I got pretty turned around today, what with the buses, no JR lines and no train stations in sight. We got off at Shibuya and took exit number 9 I think, which plops us down the road from where I usually come out, so that you're down the street from the main intersection, and on the other side of the one Yen shop, where a bunch of bus stops are waiting. Then we lined up for the bus bound for Shimbashi Eki Mae, which means 'in front of Shimbashi station, but there wasn't a station anywhere near where we got off. I think the stop was Azu-something, but it's just after you turn down the street that Roppongi Hills is on (you can tell that easily because of the huge building and how everything suddenly has shops everywhere). From there we went straight down the street we were on, and you could see the tower up above everything else.
In the tower, there are two seeing platforms, one at 150 km($8) and one at 250km($14). We ended up going to the topmost tower and she remarked how I seem to like things that are up high, what with getting to go up on the roof the other day, Tokyo Tower, and wanting to go to the Odaiba Ferris Wheel. So we hung around up there for a while and then went back down to the first platform. There is a difference in what you can see, but I wouldn't recommend paying for the more experience just for those extra 100 km. On the 150 km platform, there's lots to see and do. They have a café and a souveneir shop and a café, and signs showing which direction is which and where stuff is, like the Emperor's Palace and stuff (btw, evidently the Emperor's grandson just turned 3, cause it was on the news). They also have these interactive map things that will either let you slide a bar back and forth and it shows you the Tokyo area as it changed from the Meiji Era, to the Edo era, to present day, and if you press another button, it will fast forward through the day so you get to see what it looks like at night. Very cool. Anyways, after looking around there for a while, we went down stairs (they have a wax museum, an aquarium and a Guiness World Records museum inside, and then one more floor down are some shops and a food court.
After that, we went to this place called Midtown, which I think is at the Roppongi stop on the line starting with an O. It's a really nice mall, really ritzy (in fact, it's either the Ritz Carlton or the Hyatt, owns a few floors of the building as a hotel), and also one of the tallest buildings in Tokyo, and pretty close to the Roppongi Hills complex. Most of the stores are clothing stores, though they do sell home goods and other things, but be warned that the cheapest shop specialized only in chopsticks, and just one pair of chopsticks will set you back about $13 at least. Still, it was a great place to see, and on B1 (the first basement), there is a food court of sorts, that's more like a long line of mini restaurants specializing in either Vietnamese food, or Korean, or Chinese, or Udon, or just Hayashi rice, or just tofu, or just soup, or just things made from green tea. There is also a pattissier (spelled?) that is famous, and their prices relfect it. I single piece of their artistic looking delicacies are about 7 bucks a slice. But man, I bet they're good. Anyways, that's all for now. Tomorrow I'm going to the school and will have more to report then. I've added a Tokyo Tower folder btw, and will do a blog about trash seperation and laundry machines at a later, more boring date.