Today, at 5:30, I went out to meet a friend and her husband to go see fireworks. As with Disneyland, many Japanese people find it to be quite a shame if you leave Japan without seeing one of their many magnificent fireworks displays, and so my friend ardently searched for one that would take place before I leave (most start in August). And so, we waited at the JR Nambu Station at Mizonoguchi to head out to some place I've never heard of on the Tamagawa River to watch the fireworks.
And I had an experience that everyone should probably have before they leave Japan. The packed train. When I say 'packed,' I mean, you can literally feel people's bones against yours, you can feel their heartbeat, their sweat stains your clothes. You cannot get a handhold, but however reckless the driver might be in his sudden stops, you will not fall; there is no room to fall. I've been in packed trains before. The worst up until today was when I went with my host parents to see a Sumo match way back when. This one outdid them all.
We made our way down to the platform and got in line behind 20 other people that were lined up at one of the 4 doors to our train. The other lines were longer. It wasn't but a minute or so and the train pulled up. And as the doors opened, people were falling out. No one got off. To look at it, there was room for maybe three people. But the Japanese are not to be deterred by any manner of train traffic. And so, with a laugh, I, like the twenty people in front of me and 8 or so people behind me, shoved those already in the train farther inside, like packing an already bulging suitcase. And somehow, we made it, though there were those who couldn't fit. As one, we moved with the motions of the train like seaweed on a wave, unable to keep balance because there was no room to readjust your feet. But, as I said before, you cannot fall down. You cannot readjust either. Everyone fits together somehow, like puzzle pieces and you just have to stay that way. We rode like this for four stops before several people got off and the rest of the way (two more stops), while full, was not, 'if this guy moves, his elbow will spear my kidney' packed.
And, once we'd funneled out into the streets with a million other people, we stopped at one of several tables along the sidewalk to buy bottled tea and snacks of dumplings, though in truth we'd have done better to wait. All along the way, mostly young couples walked close, if not hand in hand, and despite the humid and hot weather, most of the young girls were all trussed up in their Yukatas, their hair up and prettily done. Even several of the young men with them were dressed in the male equivalent of a Yukata, though their hair was spiked and gelled and modern in contrast to their dress. Also, many young married couples with small children were among the crowd.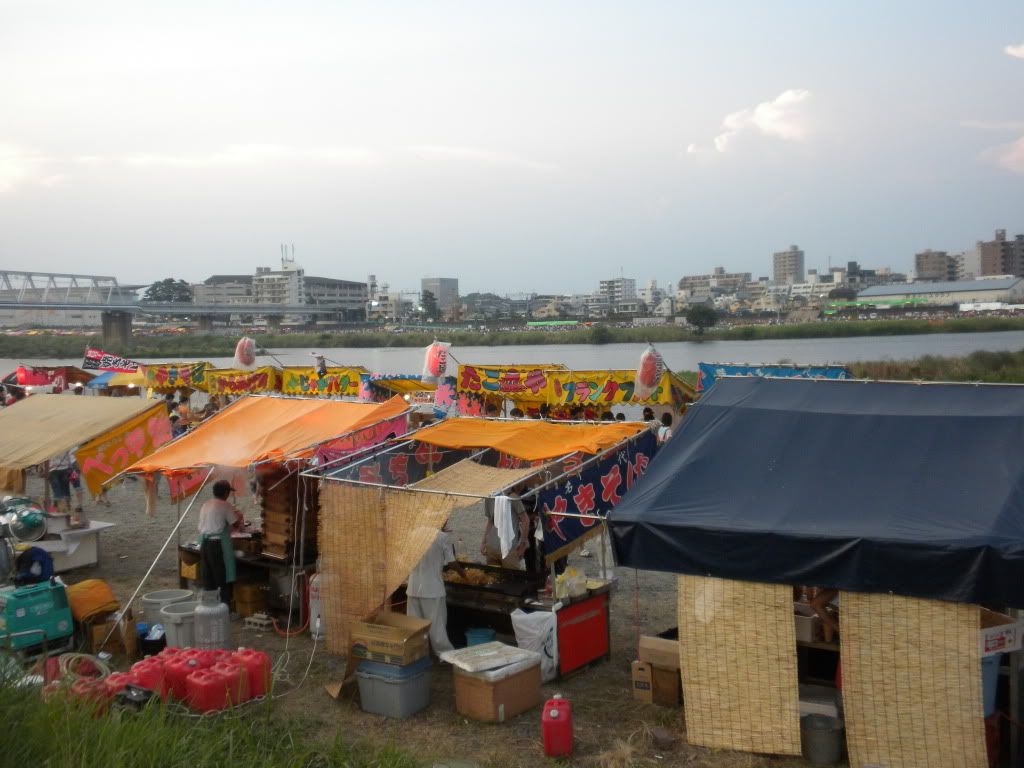 We walked a long ways, then up the stairs, over a road and down onto the banks of the river, past policemen shouting for people to watch their step. On the bank opposite, all you could see were little dots of people's torsos, in such a number that you couldn't see the green that was the space between them. On our side, stretching about a mile long on the main path, were stands selling their festival wares. I've come to love these stands, as they are more traditionally Japan to me than Ikebana. There was Yakisoba, Takoyaki, Okonomiyaki, Mizuame, Candy Apples, Shaved Ice, Frankfurter on a stick, chocolate covered bananas, chicken nuggets and more, all the way down. We finally found a bit of asphalt on the path above the main walkway, and laid down our tarp and sat (rather uncomfortably as it was rocky, hot, hard asphalt) and waited for the fireworks to begin.
At around 7:15, they started. This particular show was to last an hour and had 12,000 firewor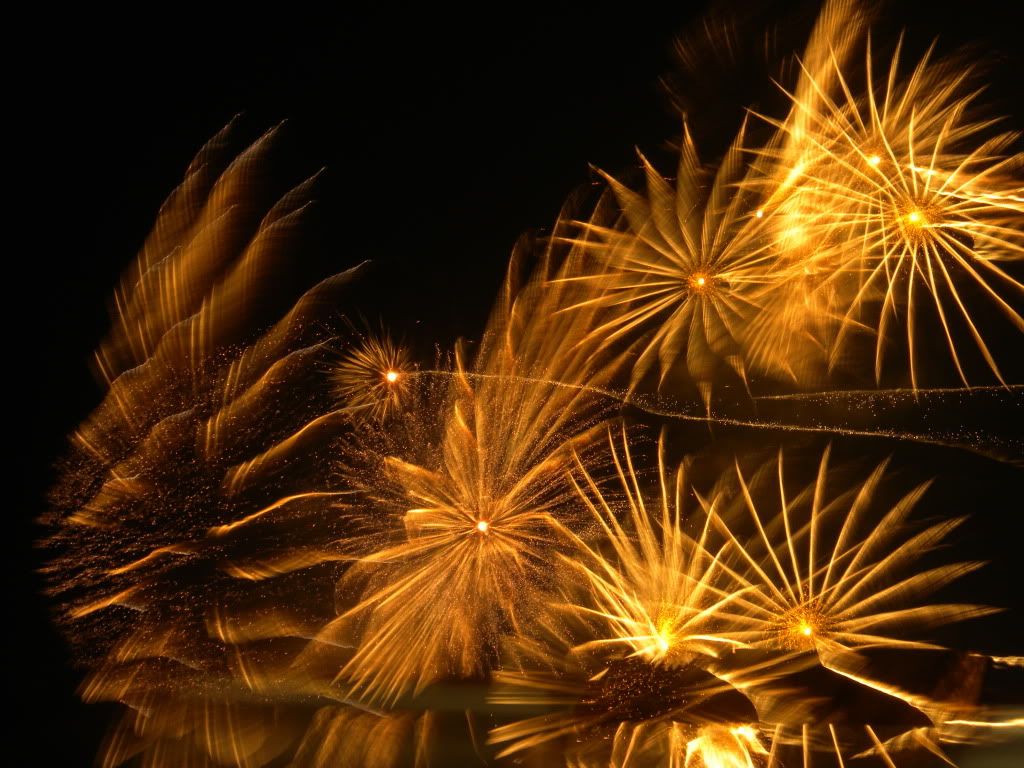 ks. While that is a good amount, the largest firework show around is, naturally taking place after I leave, and is held over the Sumida River in Tokyo (we were now in Kawasaki). The fireworks show was absolutely amazing. From start to finish it was the equivalent of the big rush at the end of our 4th of July fireworks show (the part when they set off all of what's left at the end). And these had been designed in a computer to be artistic, so you weren't just watching fireworks, you were watching a show. I don't know how the fireworks in bigger cities in America are on the 4th, but this one in Japan put St. Louis' fireworks shows to shame. They had all sorts and they were going off constantly, not one by one, but three by three or more, and in two locations. It was such fun.
Afterwards, we joined the mass exodus, cutting through a jungly bit of forest and rejoining the group, and wisely, instead of going straight to the station, we walked for about 20 min. and found a restaurant where we had dinner and said our farewells (this was the last time I would get to see my friend), and then we went back to the station and I caught the last train home.
PS: Btw, I've added two entries today, so there's a new one below this too : )