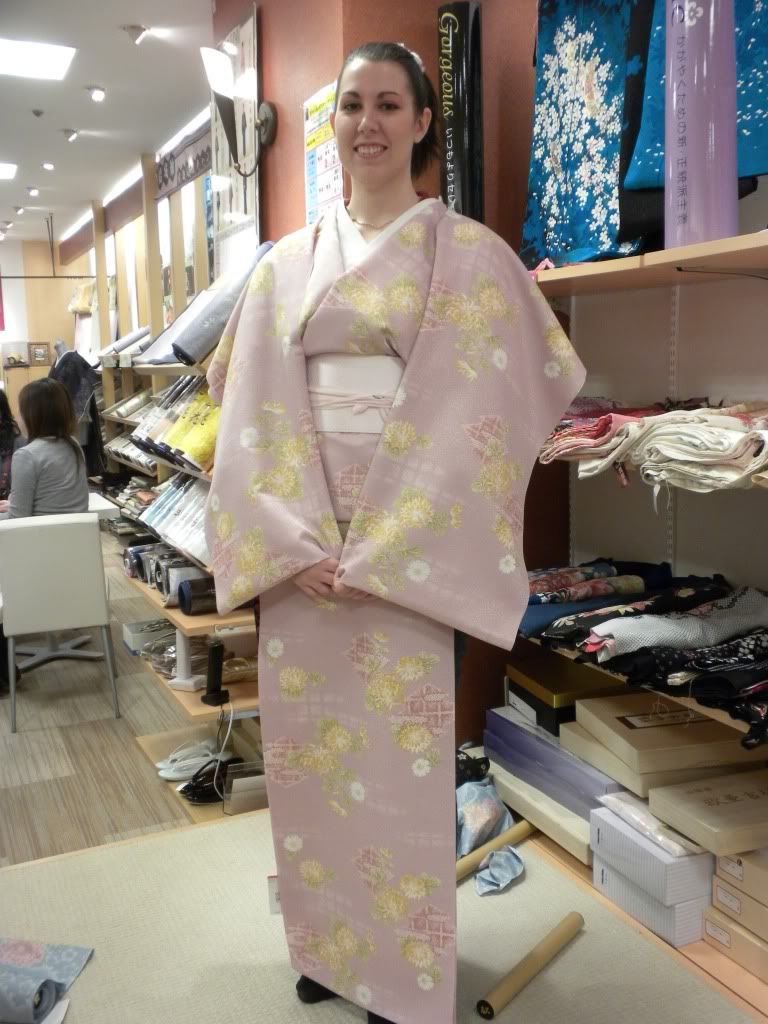 So, my girl's night out has continued on to today, making it, I suppose, a girl's weekend. Me, my host mom and her friend, the feisty Murata-san went out to a Kimono shop today to fit me for a tailor-made Kimono to wear for my debut in July (when I'm giving the tea ceremony to the public). Going to buy a kimono is sort of like going to buy a wedding dress. In fact, it's a lot like it. You go with your family or friends, 'try on' lots of different patterns of kimono, and never get out without buying all the little accessories (shoes, tabi socks, obi, cords, etc.), all of which cost well over $100. As you can see in the first picture here, I'm on my third try for the kimono. I first tried on a gorgeous turquoise colored fabric which I absolutely fell in love with, but my host mother didn't seem to like it, and like my real mother, went out into the store and came back without about ten more spools of fabric to try. For some reason all the ladies think I'm fitted for black, so we tried a few of those, before finally settling on either the pink one, which you see there, or a lovely ivory colored one that had lavender flowers and a trailing brown design. While the latter was quite pretty, it was more 'grown woman' than 'young woman,' and after some deliberation (mostly on mine and Murata-san's part), we all agreed that the pink one suited best. Note the fabrics behind me in the picture. Gorgeous aren't they? These are typically for the kimonos worn by girls for the festival that just took place, a nationwide celebration for everyone who turned 20 that year. It's a coming of age holiday and all the 20 year old girls get dressed up in beautiful kimonos made of the fabric you see behind me. These fabrics in the picture START at $2,000.
Moving on...
Though it looks like, in the picture, that I'm actually trying a kimono on, it is actually just a long thin strip of fabric folded in such a way as to resemble a kimono from the front, to give you an idea. Once we had finally decided on the pink, Murata-san, my host mom, and the young girl who was helping us (very trendy and chic, and my same size only shorter), went about picking out obis (the things you wear around the middle). I tried on a few I didn't prefer, then it came down to a gold one with cats on it, and then this blue one, which we chose. After that we picked out the center cord and the tie thing which you tuck in the obi. Then, while I was getting my measurements taken, my host mom, Murata-san and the guy at the counter started talking about prices. At first we were going to have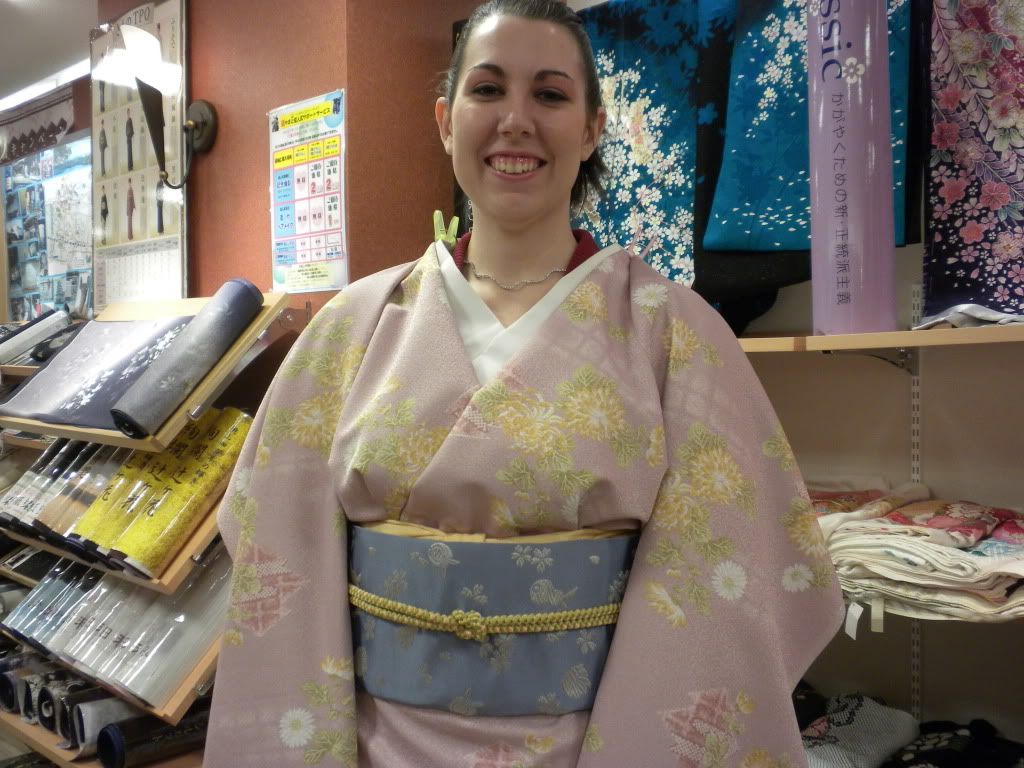 a 'one piece' (not sure if that's what they're called) kimono made, and a one piece obi. The difference is that they're made in such a way that you can dress yourself without the help of a third party because they are already cut and folded, with velcro and such on the inside. The only problem is, it costs more to have it made that way. Finally I convinced my host mom that I didn't need the ready-made kimono, though she insisted on the ready-made obi (which in hindsight, is probably for the best because you've no idea how hard it is to do the obi, especially when you can't see behind you). All together, everything came to about $800 or so, but because it was the last day of their big sale, we got it for just over $500. Does my family rock or what. So, it should be in around April and we'll see then. Anyways, I'll post again later on boring, need-to-know-to-live-in-Japan stuff. Until then!